Wireframeapp.io Appsumo Offer Mini-Review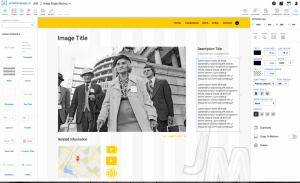 I saw a post yesterday about wireframeapp.io yesterday which currently has a lifetime offer at AppSumo so I thought I'd check it out and give a quick review.
While using WordPress itself can be great for basic wireframing I find that for some pages & concepts (like custom post type layouts) it's super handy to have a solid wireframing tool. I own the desktop version of Balsamiq which is great but isn't easy to share wireframe online so I thought I'd check this out and post some thoughts.
Verdict: wireframeapp.io is awesome and looking to continue to get even better. At $29 for a lifetime account to me it's a complete no-brainer.
The lifetime offer includes unlimited public projects, 30 private projects with up to 20 admin users. We can also invite collaborators (clients) in either edit or view only mode. Collaborators are limited to the projects they are invited to and can view the wireframes and leave comments for admin users to view and act on. There's also a public URL for each wireframe (unless marked as private) to share the mockups with anyone as per the examples below.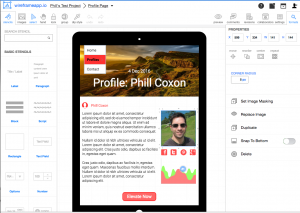 The editor is very easy to use. We can upload our own images (up to 10Gb space) and drop them into the wireframes making it very easy to produce great looking concepts in no time at all. Here's a mobile page that took me 10 mins to whip up - half of which was learning the editor controls (how to group, center stuff, move elements forward & back etc). Once through the learning curve it's super easy to whip stuff up fast.
https://wireframeapp.io/app/preview/ae2c9e8d
...and another one I've just whipped up for a client discussion next week:
https://wireframeapp.io/app/preview/bbeaf250
Here's examples of someone else's mockups to show what else is possible. Click on the BLock UI Set Design link at the left to open up the menu of example page layouts:
http://wireframeapp.io/app/preview/d2f62b05
Here's a quick screencast (not mine) that gives a quick view of what the editor environment looks like, specifically in the icon section.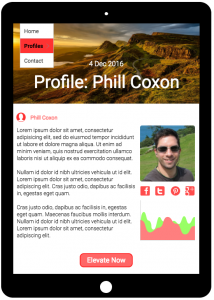 Exports for wireframes are available in PDF, PNG and SVG format. SVG will allow exporting and importing into other design apps.
I've been in touch with wireframeapp.io support who have confirmed that after the appsumo deal ends they will offer a one time upsell for buyers to upgrade to an Enterprise lifetime license which offers 30Gb storage and unlimited private projects. No indication of how much that will cost but if it's not too much it will allow us to store all past project mockups for clients that may need more work in future.
wireframeapp.io also comes with full access to the icons from iconapp.io which is their other product - so super easy to drop in great looking icons of all sorts without having to hunt elsewhere. One super cool feature is the ability to upload images of any size and then create stencils of part of the image - such as a headshot of a person with rounded corners instead of having to edit and upload a dedicated "avatar" profile image.
Overall it is an amazing deal compared to something like Balsamiq online which only offers 10 active projects for $24 / month! Given companies make offers like this through appsumo to generate quick and large cash influx for further development I expect we'll continue to many more improvements to wireframeapp.io over the next 6 months.
I'm super happy with this purchase. I'm already starting to work on client mockups for a project next week using fairly complicated custom post template layouts. I highly recommend taking advantage of the lifetime offer if you need a good online wireframe tool now or in future - who knows if it will be repeated again in future.
If anyone would like a collaborator invite to jump in and have a play with some mockups feel free to drop me a line.
See the lifetime offer while it lasts at AppSumo here: