Convert Player Mini Review
Convert Player allows anyone using video on their websites to easily add high converting email opt in forms, calls to action and facebook sharing to any YouTube or Vimeo video.
Normally $99/year there is an AppSumo special lifetime offer (pay once and use it forever – no renewal fees) for Convert Player for a one time fee of US$39. Note – if AppSumo.com shows you a "green enter your email", simply scroll down to see the Convert Player deal page.
It's an exceptional deal for what is already a solid product that has many more features in development.
Want to skip and watch it in action first showing a number of different conversion tools? Click Here and then come back and read the rest of the review.
So How Does Convert Player work?
After logging into your Convert Player account you are prompted to add a new video. Select any YouTube or Vimeo video (note: Vimeo private videos are not currently available to add but will be soon!) and add it. You'll then be presented with a really slick interface that allows you to:
Set whether the video will auto-play
Hide the YouTube / Vimeo controls
Redirect watchers to another URL at the end of the video
Enable and edit SEO Title and Meta Description for the video
Add Email Opt-Ins, Call to Actions and Facebook Share functionality to videos.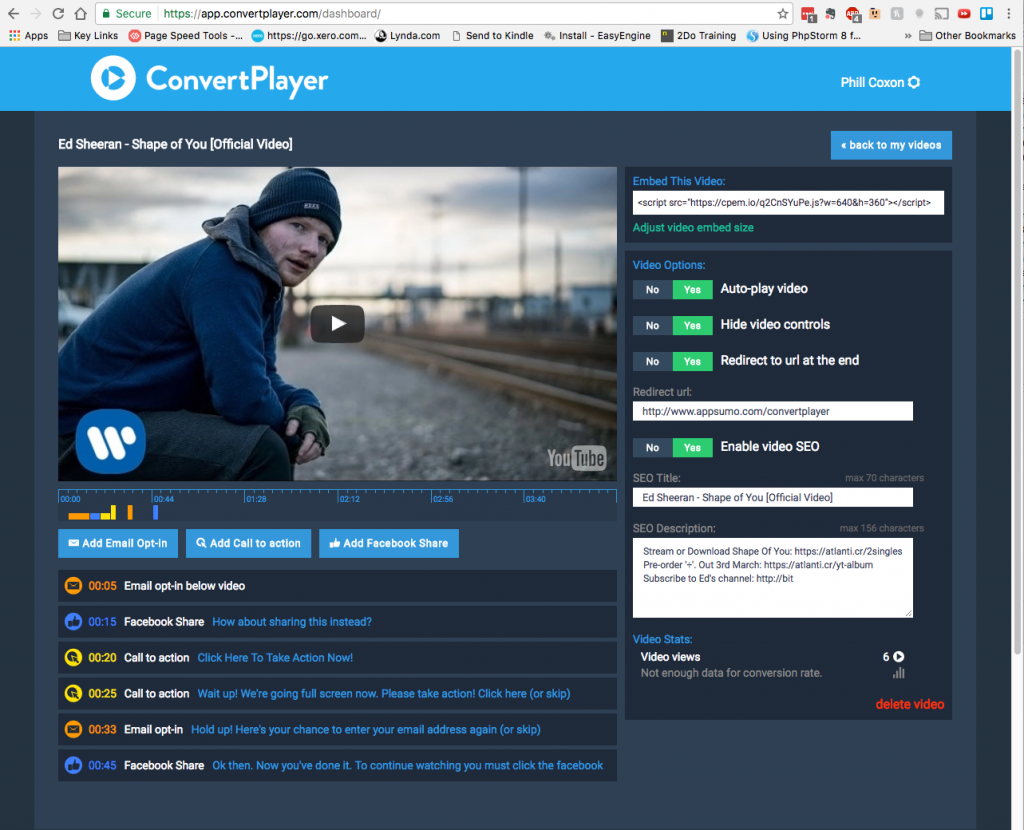 Let's Add An Email Opt-In
As an example, let's look at adding an email opt-in to the video. When we click the "Add Email Opt-In" button we are presented with the editor area below which allows us to select where the opt-in will appear.
Default options are to add at the Start, Middle or End. However, selecting "Middle" allows us to enter an off-set time giving us full flexibility over where in the video the opt-in form will appear.
For each of the Email-Opt In, Call to Action and Facebook Share options we have the choice of blocking the video (as shown below) until action is taken, or using a far less obstructive form that appears below the video. This way visitors can continue to watch and choose to take action vs having their viewing experience interrupted.
You'll note from the settings below that Convert Player will connect with top mail subscription services so that watchers can be added to a mailing list of your choice. There are additional options to alter the display and to choose whether viewers can bypass a conversion method that blocks the video.
Each conversion method allows for easy editing of background colors, text, button text, button color etc. Simply click on the text and edit. Further enhancements are on the way such as adding images and icons.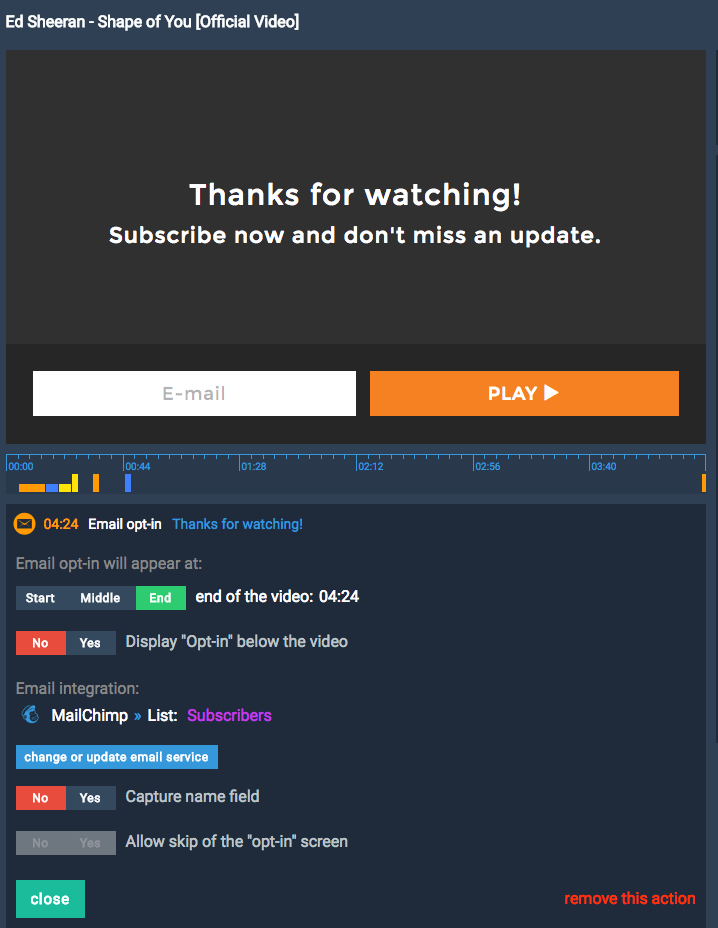 Using Convert Player
Using Convert Player videos couldn't be easier. Either copy and paste the javascript code (top right of the editor page – see first image) into any web page or WordPress page or post, or you can use the Convert Player WordPress plugin which allows you to log into your ConvertPlayer.com account and use the editor embedded inside of WordPress. It also adds a Convert Player button to the post/page editor allowing easy and fast selection and insertion of the player code.

Chaining Convert Player Events For Extra Impact
One of the best features that is easy to miss is the ability to chain multiple events in one video. If you look at the top image you'll see there are five events added to the video:
5s – email opt in below video
15s – facebook share below video
20s – call to action below video
25s – call to action – full screen, skippable
33s – email opt-in – full screen, skippable
45s – facebook share – full screen, can not be skipped.
This gives a lot of flexibility to see training videos and presentations with events – "want to know more about this particular feature, enter your details", "are you enjoying this video – why not sure while you continue watching", "we've reached the end of the free half of this presentation, please share on facebook to watch the premium half for free" etc. You'll see how this works in the live video below. Yes the video feels very crowded with events so ensuring they are spaced well apart will be an important factor so as not to annoy viewers.

Convert Player In Action!
Here's the video with the 5 events. Feel free to watch and test it. Note that any email addresses entered will be deleted.
[convertplayer id="q2CnSYuPe" width="640″ height="360″]
Summary
Overall I am very impressed and really excited about putting Convert Player to use on my sites. I'm thinking of a number of approaches including sales pitch videos with soft call to action, training videos, presentations and more.
For a $39 one time fee this is a great offer which may never be repeated. I'd highly recommend checking out the AppSumo offer (only a few days remaining). Reading the comments left by buyers gives a lot of insight. For more detailed information you can also visit the Convert Player website.
Addendum: Small Review Video
Here's the small YouTube review I made last week with my initial thoughts and, of course, it's using Convert Player to display 😀
[convertplayer id="q4jphKpCE" width="640″ height="360″]